During my college years, I began to deal honestly with my sexuality. I had been aware of my attraction to men for many years. When I was young and didn't yet have a label for my attraction, it never occurred to me to be anything else than natural. When I began to realize I was different, I simply denied it. I ignored it, thinking it was a phase I'd grow out of. During college, I found it wasn't going away. My attraction grew stronger along with my hormones. Finally, I started seeing the campus psychologist and began the long process of understanding myself and my sexuality. At first I was out to change my sexuality from gay to straight. I had heard that it could be done. Wisely, my therapist offered no quick fixes, but let me explore all the avenues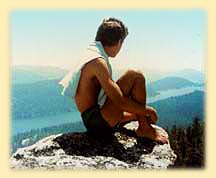 I could find.

One such avenue was an "ex-gay" ministry. This is a religious fringe organization that believes if you pray hard enough and try hard enough you can change from gay to straight. After spending some considerable time in the "ex-gay" world, I found their beliefs did not match with reality. In fact, often times they would manipulate reality to fit their circumstances. Even though I learned a lot from them and did a lot of "healing of the inner child," the bottom line was that I was attracted to men.

My over riding concern was that God and those I loved (if they knew) would reject me because of my sexuality. But after doing quite a bit of research, I discovered God had no problem with my sexuality; in fact, my sexuality was a gift from God to be responsibly enjoyed. Once that was realized the real issue came to light - I had to accept my sexuality. This was and is the hardest thing of all. Could I learn to accept myself in the same unconditional way that God loved me? I can remember the first time I caught a glimpse of that kind of love and acceptance. It was as if I had exhaled for the first time. Regardless of what family and friends might eventually think, I could protectively rest in this kind of acceptance and love. This began an integration process for me which continues to this day. I strive to integrate my sexuality, my spirituality and every part of my being into a whole person - a wholeness that maximizes my potential.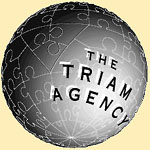 I felt so strongly about the need for integration and the lack thereof in our society, that I spearheaded the formation of a nonprofit organization called Triam Artist Group. Simply stated, Triam fosters the integration of creativity, spirituality and sexuality through the arts, education and resources. Over the years Triam is slowly getting stronger and beginning to support artists and teachers who are speaking out about integration in our society.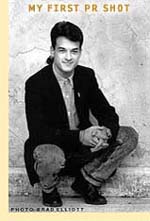 By the time college ended, I started doing concerts of my own music in churches and private schools. For several years I squeezed out a living doing these concerts across the U.S., all the while knowing that if my sexuality had shown in my music, I would be barred from doing any of it. Gradually, I transitioned from singing only about God to singing about my sexuality... ummm, I guess it wasn't that cut and dry. Basically, I tend to write music about what I am experiencing, so it makes sense that as I integrated my sexuality into the rest of my life, it would naturally come out in my music. It was not easy; fear of being rejected and loosing cash flow had me lying on occasion - something I am not proud of.
After college, I moved to San Francisco, and two memorable things happened. The first was being honest with my family and friends about my sexuality. You can guess how "well" a Southern Baptist family took the news. It ranked close to my sister's death in devastation. Mom and Dad got "loving" advice from "spiritual leaders" to excommunicate me, but in the end, they held true to our love. Unfortunately, since I now confessed to being one of their most abhorrent stereotypes, they were determined to change me; and I, of course, was determined to make them accept me unconditionally. Over several years we argued ourselves into exhaustion, and then, finally distancing ourselves from each other. On the one hand, this has been very sad. On the other hand, it has liberated my perspective and helped me embrace my adulthood. I realized that I was just as determined to conform them to my thoughts as they were to conform me to theirs. In recent years, Mom and Dad have very slowly shown little steps of acceptance. The latest has been to visit the house that I and my beloved, Leonard, have bought together - something they said they would never do (more about Leo on the next page). I have given up the expectation and desire to conform my parents to my way of thinking wihtout giving up all hope. The lesson learned is that giving unconditional love is a lesson learned throughout life.
The other significant thing that happened around this time was my first long-term relationship. At my first ConnECtion Conference (a queer-positive and Christian conference sponsored by Evangelicals Concerned) I met a classy yet playful blonde named Stuart. Because he lived in Seattle, we began a long-distance relationship. Within a month of us meeting, Stuart told me he was HIV positive. Even though this rattled me a bit and changed the dynamics of our relationship some, it did not change my growing love for him. After the course of a year, Stuart moved to San Francisco, and one year from the day we met we had an intimate ceremony and, soon after, two receptions (one in San Francisco, one in Seattle). As time passed, I realized that my "young" love for Stuart was probably hasty. Even though I will always love him, I was in the relationship for the wrong reasons, looking to Stuart to fill gaps and solve problems that he could not and should not fulfill. So, three years to the day we met, I moved out. It was rough on both of us; our interaction was never the same. He eventually moved back to Seattle to be closer to home. In 1995 Stuart died of complications from AIDS. He will always have a special place in my heart. (A note about safer sex: I am proud to say I could love Stuart fully within the context of safer sex. I do not have the HIV virus and plan never to get it. Safer sex works.)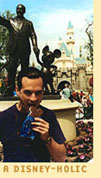 After Stuart, I took a break from dating anyone seriously. I enjoyed (and still do) aspects of my childhood that keep me young, like my occasional sojourn to "the happiest place on earth," Disneyland. I also used this time to continue therapy and take more responsibility for my personal growth. Though for a time, I was depressed and angst-ridden, eventually, when the dust settled, I discovered that a lot of my religiously based fear had settled too. The fear of disappointing God, fear of God's wrath, fear of parental rejection had all transformed into love for life. It felt like a spiritual conversion - something I allowed to happen, but wasn't sure just "what" was happening. I had moved closer to accepting love, farther from fear, with greater spiritual strength. I could explore the world without my identity feeling threatened. I could travel to the edge of my curiosity and my relationship with God would remain intact. Certainly this was something I knew in my head before; now I experience it in my body. I enjoy this freedom - this absence of fear - and can't get enough of it! I experienced greater integration of my spirituality and sexuality by being a part of two organizations: Evangelicals Concerned and the Radical Fearie movement. My most sobering thought is that I will never experience all of God's creation in my lifetime . . . but I can sure-the-hell try!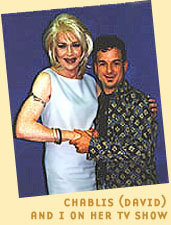 Through the years I have continued to develop strong friendships and because of their strong influence on my life, I would like to mention a few here. David Lassman was my first San Francisco friend when I moved to the city in 1987. We have been roommates on more than a few occasions and he has always been willing to lend a helping hand with my music. David has always given of his talents especially as one of the finest hair stylists in San Francisco. In recent years I have been able to give back to David offering my graphic designs to his career as the female impersonator, Chablis. She has produced, directed and hosted the cable access TV show, City Beat. And in 2001 she won the crown of Empress of San Francisco.

Jay Williams has the dubious honor of being my "best" friend. Knowing Jay for many years now, we are fine tuned to each other's personalities. Rarely are we in a room together without knowing how the other will respond to a given situation. He is always there when I need him the most. He will sensitively give me wise advise and his honest opinion. I had the cherished privilege to write the love song, I Would Choose You for his wedding to another good friend, Ron Poindexter. This was extra special since I was the one who introduced them to each other. Jay has so impacted my life that I have erected a shrine in his honor on this site. To find out our about our escapades, enter the shrines page.
David Kincaid and Kelley Combs are my adopted "Uncles" (even though they're not old enough to be my Uncles). Ever since meeting them, I have felt a desire for mentorship and friendship with them. We have worked together in Gay and Christian organizations, and they have helped me smooth down some of my rough edges. In 1996 Kelley completed his battle against cancer and moved on to the next life. Fortunately, just a week before he died, I was able to catch this loving couple on film for my first music video, When You Touch Me I Know. I am so honored to have this last footage of them together.