Over the years I have released several recordings to friends and the public. Below is a discography (in reverse order). Some you can purchase, others are listed just for "the record."
Time on a Chain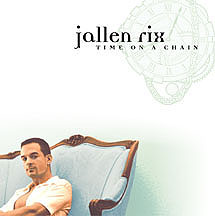 This CD marks a new phase in my career. This recording was funded with a recording contract by the record label, eighth note records. It also was the first time I collaborated with a producer, my good friend Michael Rodriguez. The result was a clear improvement over my other recordings. I guess it is syncretistic that since my musical maturity came from these relationships that the album's theme is mainly about relationships.
Song list for Time on a Chain:
Time on a Chain, Beloved One, What was it (we were fighting for), Gentle & Honest, In my Shoes, Message in a Bottle (by Sting), I would Choose You, Friend, It take all of me, Everyday I write the book (by Elvis Costello), Steadfast Outcast.
To order: Compact Disc: $15, Cassette: $10
The Sacred and the Queer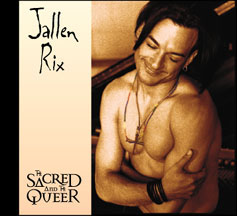 Released in 1995, this, my first CD has been the most successful. It was recorded in San Francisco at Meac Studios by my good friend, Michael Rodriguez. It was an "integration" recording that reflected my converging sexuality and spirituality. The message seemed to work for and against itself. Most people either "got it" or "resisted it." Ironically, some of those who knew me and my background, were the ones who dismissed it as being too "Christian," even though only 3 of the 16 tracks deal with my spirituality. Those who didn't know me or my background seemed more willing to accept it for what it was. The CD won three nominations at the GLAMA Awards, for Best Male Artist, Best Debut Artist and Album of the Year. We also produced two music videos from it.
Song list for The Sacred and the Queer:
Better Than Before, Dare To Dream, Disease Foreshadow, Down At Stonewall, I Hold His Hand Loosely, I Just Want To Love You, I Want To Know You, Political Foreshadow, Overflow, Romantic Foreshadow, The Face Of Love, The Pendulum Swings, Try, We Have Learned to Hate, What The Preacher Did To Me, When You Touch Me I Know
What's been said about The Sacred and the Queer:
"The year's best gay/lesbian album." -Will Grega, OutSounds, The Lesbian and Gay Alternative
"...Vulnerable Lyrics ensconced in full orchestration...the CD is so great!" -Michael Paoletta, Out Magazine
"...Very intimate and personal." -Jeffrey L. Newman, TWN News
"His music oozes talent. The lyrics throughout the CD are extremely well written . . . with a witty sense of humor and a deep understanding of love and peace. The melodies are catchy and they're the kind you catch yourself unexpectedly humming. His singing is also infused with honesty and depth. Why haven't I heard of this guy before? -Kevin Ofuzo, Oblivion Magazine
"Top Ten List of what gays and lesbians are listening to today" -March 1997, Advocate Magazine
"A stunning mix of humor and inspiration." -Jeffrey L. Newsman, The Washington Blade
"This album is less about Christian dogma and more about merging spirituality with gay identity. Coupled with his smooth tenor, [Galleon] brings a strong emotive quality to the material." -Adrian Robbers, Bay Area Reporter
To order: Compact Disc: $15, Cassette: $10
back to basis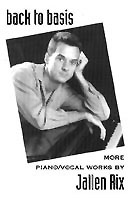 Released in 1992, this was the last "religious" tape I recorded. Recorded at Master Tracks Studio in Santa Barbara by Dave Somme's, it is a quasi-live concert tape. I wanted the high quality of a studio recording but also the live feel of an audience so for some of the songs we brought in a group of friends to listen and react. The title is "back to basis" (not basics) because it was the second piano/vocal tape I did - the first one called "basis."
Song list for back to basis:
Better Than Before, Blessed Assurance, Hymn for the Aging/Swing Low, I go to the Lord, I Will Be There In Love, Light of the World, Special Friend, What May Appear To Be, What The Preacher Did To Me, When You Touch Me I Know, You Are My Family
This tape is no longer available for sale.
basis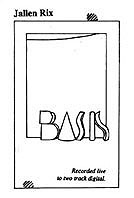 Released in 1988, this was my attempt at getting my music out there on a shoestring budget. I recorded piano/vocal songs at Brier Patch Studio in San Francisco to be a "basis" of what people were hearing in concerts. I cringe at the low quality, but the songs are personable. It is a testament of how far I have come.
Song list for basis:
All I Need, I Will Not Let Go, In The Hollow Of Your Hand, State Of The Heart, Song Of The Outsider, The Love You Live, The Servant's Song, Time On A Chain, To My Friends And Family, Warm Santa Barbara Nights, We All Need The Lord
This Tape is no longer available for sale.
Old And New

Way back in 1984 I hornswaggled a college buddy of mine, Jeff Dykhouse, to use his little 4-track studio to create my first tape. Very "80's" in style, completely created on synthesizers, it was my first attempt at putting together a whole album, and, for being created in a college dorm room, it sounded pretty good. Even back then, I can see my desire for integration. The title track, Old And New, is about my being both a product of my past and yet having the ability to reinvent myself.
Song list for Old And New:
Don't Cease Creating, Heroes Of The Age, Looking In On A Darkened World, Money's Got You On The Run, Paths Will Separate, Old And New, State Of The Heart, Strangers In Love, The Best Of It, Triam, You Just Go On, You're Worth Too Much
This tape in no longer available for sale.