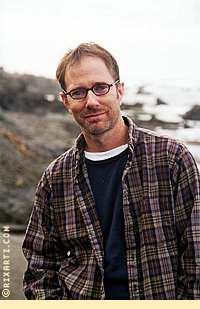 By early 1994 I was ready for a serious relationship. Soon after, I met Leonard Silva, the love of my life. Like any relationship, ours certainly required adjustments in the beginning, but every step closer has been natural and purposeful. We both are independent, and it's wonderful to design a healthy balance of connectedness and freedom in our relationship. I am now more open to Leonard than to anyone else, past or present. I cherish him deeply as my Beloved. Close to our third anniversary, we had the opportunity to buy a small Victorian house in San Francisco. This added a whole new level to our commitment that is both challenging and strengthening. Our life and love has become so intertwined that I have erected a shrine in his honor on this site. If you'd like to read more details of my love for him and our journey together, enter the shrines page.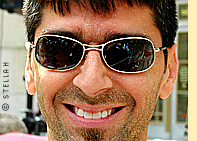 Michael Rodriguez and I knew we were destined to meet years before we did. I had heard of him. He had heard of me. Around 1994 we finally met quite accidentally, and the synchronicity of our meeting foreshadowed how unique our connection would be. Michael has not only become my closest friend, but he has given of himself as a co-producer, collaborator, and a Grammy-nominated studio engineer. I could go on and on about our special bond... Oh! but I already have. Like Leonard, Michael has grown so close that I have also erected a shrine in his honor on this site. If you'd like to get the details of our chance meeting, enter the shrines page.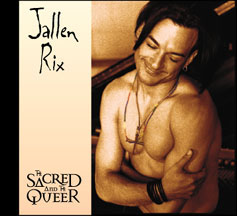 In 1995, in addition to getting interpersonally close to Leonard and Michael, little did I know that their special talents and support would be integral to creating my first CD, The Sacred and the Queer. I could not have made the recording without them. As S&Q was distributed, it gained recognition for the seemingly controversial subject of dealing with sexuality and spirituality (as well as my shirtless photo on the cover). I still get letters from strangers thanking me for expressing in song some of their own struggles to merge the sexual and the spiritual. It had a good run for an independent recording. It was nominated for three GLAMA Awards (The Gay and Lesbian American Music Awards) for best new artist, best male artist, and album of the year. Enough friends and resources rallied to make two music videos off the album. We had a great time and I owe so much to my family of choice and their talents.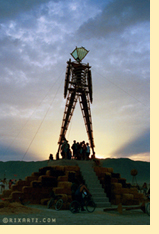 In 1998, Leonard and I went to Burning Man for the first time. What is Burning Man you ask? Without going into its history (you can find all that and more at the Burning Man website) let me just say that it's part arts festival,
part rave, part faerie gathering, part tailgate party, part ritual, part Mad Max movie! All of this takes place the ten days leading up to Labor Day weekend out in the Nevada desert, culminating on the last night in which the three-story high Burning Man is, well, burnt!
Burning Man means lots of things to lots of people. To me, it is a marker in the year - a retreat of sorts - that allows me to take a break, evaluate my life, "burn" my baggage from the past, and move on to be a stronger, and more fully present person. (ooh! Aah!) Oh! yeah, it's outrageously fun, too!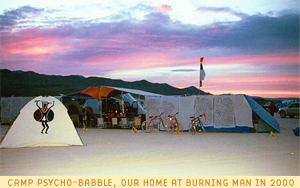 The creativity that is literally brought to life on the desert floor is unbelievable. The overriding theme is to experience all this innovative art and its connection to the community. Understand, this is in the middle of nowhere and within this short time period about 25,000 people create a monstrous city on a monstrous, dry lake bed. The bigger camps around Black Rock City (that's what it's called for the week) are designed and decorated in some kind of theme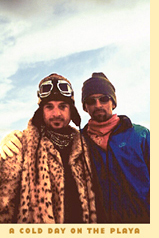 or artistic motif, like a Taj Ma Hal Stage made entirely of little plastic toys. Lots of people express their art in creating some kind of vehicle to drive around, like, the traveling Tiki bar, the piano on a bike, and the mobile harem bed.
Every night, parties erupt from different camps. But the big event is watching the Man burn on Saturday night. Every year I feel I have burned some of my extraneous past and come away a freer person. It is now an annual ritual for Leo and I, as well as many of our friends. I encourage anyone to weather the hot and dusty climate for the daily experiences of creativity. Every time I step foot out of our camp I see things I never dreamed of! There's more to explore at the Burning Man site: http://www.burningman.com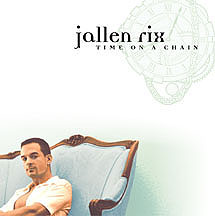 At the dawn of the new millennium, several good experiences happened. My second CD was released: Time on a Chain. Michael and I had worked off and on in the studio for several years prior to finally releasing the CD. In January of 2000 we had a huge release party at Slim's in San Francisco. Two other CDs were released that night as well, Michael's own piano recording, Invocation, and Garrin Benfield's debut CD, Living a Dream.

That night also marked the opening of our new, Bay Area record label, Eighth Note Records. A group of close and interested friends pooled their resources to create a great community of musicians and music lovers, with Garrin, Michael, and I as the label's premiere artists. I am grateful and honored to have the support and attention of this record label.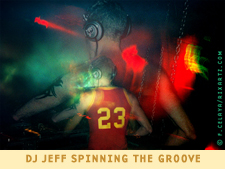 Soon after the release party, longtime acquaintances, Jeff Chandler and Gary Gray created a dance club that was more diverse than, and an alternative to the Rave Parties and Top 40 Clubs. Club Reform Skool was (and still is) every Thursday Night at the Stud Bar. Jeff's mix of House, Garage, Hip Hop, Alternative, and the occasional, funky 70's groove, is so good that I am a regular. Something I didn't anticipate finding there was family. Gary and Jeff have been a couple for 17+ years. They are gracious hosts and always welcoming new friends into their large, family of choice. This group has spent time outside the club too - Burning Man, New Year's Eve, Birthdays. Since I don't have much connection with my family of origin, finding this group as a chosen family, has been greatly nurturing. For this, I sincerely thank Gary and Jeff.
The Institute of Advanced Studies of Human Sexuality is the only independent school of sexology in the world, and it resides here, in San Francisco. When I heard of the school in the early 90's, I felt as if I'd found a piece of my life puzzle, like when an event occurs during a movie that doesn't make sense to the plot until the end. Along with this puzzle piece, I had a growing awareness that I didn't want music to be the only career throughout my life. But what fulfilled me most about music was the effective communication and fertile relationship that I can create between myself and an audience. This was something I wanted develop more. Fortunately, I began to notice that same fulfilling connection in the workshops I teach, and the puzzle piece fit into the picture! I can't think of a more important, yet more neglected aspect of humanity than sexual maturity and education. When I'm through, I'll have a Doctorate of Education in Sexology which allows me to teach on a University level. I look forward to teaching in some capacity, but right now I am focusing on my studies. Music is always a part of my life and just like my other passions - graphic design, photography, illustration, teaching - we'll see how I juggle them all into the future.

So that's my story so far. Even though I have sacrificed the stability of a 9-to-5 job to pursue my passions, I believe that doing and enjoying what I'm best at, makes life abundant and fulfilling. I can't imagine doing anything else, but who knows what I'll get into next.