Helena Handbasket's Fashion Column To The Stars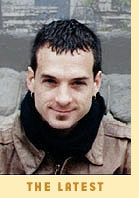 Kisses, Darlings! And welcome to another installment of my fashion advise from me to you! This week's topic of discussion (though I'll be the only one discussi'n) is the importance of men changing their hairstyles. That's right, girls! Going to the salon and getting a fabulous new dew for the Oscars is not just for women anymore. Take this week's celebrity focus: Jallen Rix.

Over the course of his career, he has changed his hair more times than Ms. Taylor's changed husbands.
I caught up with the singer/songwriter between road trips at his home in San Francisco. There was some interpretation that his changing hairstyles might rock his fan base. "I often have people come up to me and say they almost didn't recognize me without the long hair," says Jallen, "But they also say that they like the new shorter look."
I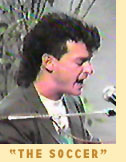 asked him if there was a reason for the change. "I just got tired of all the maintenance of straight hair when I have fairly curly hair. It was too much trouble. But I don't need a good reason to change my hairstyle. Men should feel they can be creative with their hair just as much as women. As you know, Helena, I have been a long standing advocate for male hairstyle changes."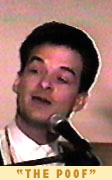 Indeed I do! Even at a young age Jallen's hair was unmanageably curly. His very first hair change came after a woman stopped his parents and exclaimed, "What cute curls your little girl has!" (Hmmm...that woman must of had a special insight, if you know what I mean) And off to the barber he went!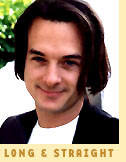 As a public figure, Jallen has managed his curls by several different styles. In college he kept the Soccer Look. This style - long in the back and short on the sides - was the rage of all the handsome guys on the soccer team and seemed to work for Jallen as well.
After college, when he started performing full time in churches and private schools, he kept his hair neat and trim. This was his Poof Period. Short all over with his front curls in a little "poof." How appropriate! However, the conservative look was never without a little rebellion on his part. The remnants of the Soccer Look grew under his collar in the form of a braided ponytail that got to be almost the length of his back.

With the blossoming of his sexuality, Jallen's hair began to grow. His good friend and popular hairstylist, David Lassman, was able to create a beautiful straight-haired look that can be seen on his first CD, The Sacred and the Queer. But, as he said, the hours of getting the look right wore on him. Jallen felt he had more important things to do (more important than fashion?). So for a while he tried leaving it long with the curls, seen in this rare photo. But the unruliness got to him. With fire in his eyes, he sought out the hair clippers and shaved it all off.