Over the next few years, Jay introduced me to Evangelicals Concerned,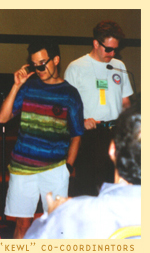 a gay-positive Christian group the integrally enabled me bring together my religious background, my sexuality, and my budding spirituality. We were so fine-tuned that we shared time on EC's Board of Directors and co-coordinated a couple of ConnECtions, EC's annual conference.
Jay also proudly shares with me an all-American, white-trash upbringing. We're not ashamed to share the occasional fast-food lunch. We can go on and on about the latest relational, inner-workings on Star Trek. Don't get Jay started by mentioning a phrase or song from The Sound of Music, he'll recite the rest of the movie to you. I consider this quite a talent and I can do the same with Young Frankenstien and Raiders of a Lost Ark. We both are Disney-ohalics. Many a day has been spent within the walls of "the happiest place on earth." Around my thirtieth birthday, I gave Jay his first guided tour of Disney World. And there's nothing like Jay and I flirting in a line for Space Mountain on Gay Nights at Disneyland!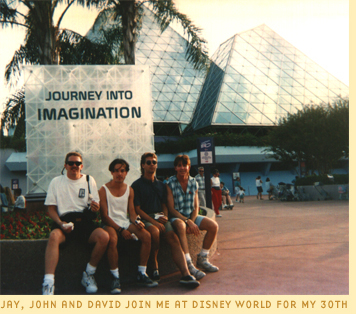 Most of our connection has been a long-distance one. When I began to perform on the road, I took every opportunity to sing in the LA area just so I could spend time with Jay. Sometimes, I was a month-long house guest, and Jay was always accommodating. I remember one visit, early on Gay Pride morning, the ground began to shake! The quake got so bad that we two girls had to jump out of bed and stand, bare naked, in the bedroom doorway. We were up early for Pride that year!
I was sad to move from Santa Barbara (two hours apart) to San Francisco (six hours apart), but Jay visited often. It didn't hurt that every time he came to The City, he'd get lucky! On one such trip, little did I know that I would introduce him to his future Beloved, a new friend of mine, Ron Poindexter. Eventually, Ron moved to LA to be with Jay, and I took every opportunity to harass Jay for stealing my friend away. When they decided to tie the knot, they gave me the cherished privilege of writing a love song for their wedding. I wanted the song to be accessible so anyone could relate to it, but I also placed some symbols into the lyrics that had specific meaning to the happy couple. What an honor for me to contribute to their ceremony in my own unique way. Later, it was a double honor to put their song, I Would Choose You, on my CD, Time on a Chain.
Just like all relationships, we've had our difficult times. My fear of abandonment can play off his fear of inadequacy. But we've learned from the wounds of our upbringing that agreement and acceptance are two different choices. So we choose to accept and support each other even if occasionally we don't agree. I fear we could let what little differences we have, fester into pissy, bitchy bitterness. But that is just my fear talking. When the rare disagreement comes up, I see the choice of acceptance in his eyes and I know that he loves me without reservation. I choose love with him, too.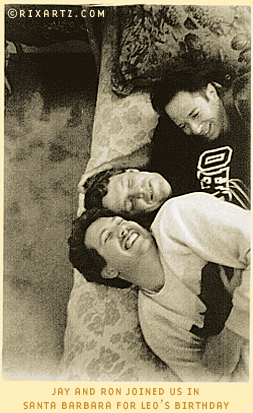 These days, Jay and Ron reside in Seattle (twelve hours now, geez!). They have purchased their first home and I am happy they have found intimate companionship with each other. They are always there to give sensitive, wise advise and honest, off-the-cuff opinions. Even at this distance (which I think helps us get an outsider's perspective), Jay and I are still effectively loving, supportive, intimate, in tune, on and on and on... After all the years in high school and college, begging God for a best friend (or was it a boyfriend?), I found this fine man. Every aspect of my being gravitates to him as one of the very few constants/foundations/refuges that genuinely anchors and protects my life.

These words never seem enough, but I will write them down again: Thank you, Jay.

All my love and respect - Jallen