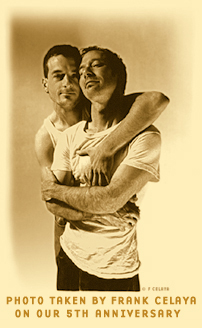 Way back in March of 1994, I was sunning my buns on Baker Beach when a group of guys stopped by my towel to chat. One was an acquaintance who introduced me to a lively, hairy-chested man named Leonard. We tossed a few flirtations back and forth before the group moved on. But as they walked away, Leonard ran back and handed me a business card. I wondered where he hid the business cards since all he was wearing was boxer shorts, but I wasn't complaining. It was one of those rare days in San Francisco when the fog didn't roll in and Leonard and I ended up watching the sun set into the ocean while I spoke some of my poetry into his ear. It was a wonderfully romantic introduction to the man who has become my Beloved.

We started spending time together, but true to form, I'm a "multi-tasker" so I was juggling two other romantic interests at the same time. Len caught my attention, though, since he, relatively, didn't mind. Over the next few months, I narrowed the "picking's" and actually decided to seriously date one of the other guys. But within a couple of weeks I realized I had made the wrong choice. I could not deny the many ways Len and I connected and complimented each other, so I humbly "begged" him to give me another chance. He was warmly forgiving and still has that quality today. For the next several months we were still in the "getting to know each other" mode, and we coined the phrase "romantic friends" for each other, since most labels (boyfriend, steady, etc...) didn't quite fit. After about a year, though, we were quite sure that the depth of our relationship was going to be long-lasting, if not lifelong.

Within two or three years Leonard and I racked up some great memories that solidified our relationship. One Christmas we rented a cabin by Yosemite and spent the week tromping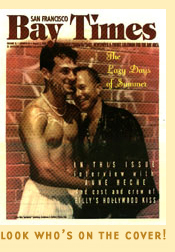 through snow and cuddling by the fire. Len's business in event decor and design provides us a lot of fun around San Francisco. We've gone to many events I'd never have the means to attend, like The Academy of Friends, exclusive trade shows, even private parties like Pixar's opening celebration of the movie, Bug's Life. While I was involved with the pro-gay, pro-christan group, Evangelicals Concerned, Len went with me to several of their conferences, even though he has no religious background. We were surprised to become "cover guys" when our picture was taken at the Dore Alley Street Fare and put on the cover of Bay Times.
Len has often been my "roadie" on concert tours to Miami, Key West, New Orleans, New York, Phoenix, the Grand Canyon and Washington DC. In addition, he has always been an avid supporter of my music and he proved it right off the bat by helping me get my first CD, The Sacred and the Queer, off the ground.
We've had the fun of going to Europe a few of times. In May of 2001, I performed throughout Britain and Len came over the last two weeks. We stayed with good friends in London, but still did not see the whole city. In '98, we took his mother for her 80th birthday to a couple of, Oh! little towns she'd never travel to: Paris and London.
Speaking of his family, I not only was welcomed into Leo's
heart, but I was welcomed into his family too. He grew up in the Bay Area so his mother, brother and sister-in-law are not far away. Len's family had accepted his sexuality soon after he got out of high school so they are very comfortable with me and treat me as one of the family. On many occasions, I have been moved to tears by their simple acceptance and validation since my family has all but excommunicated me for whom I love. Len's mother, Vivian, is a beautiful woman—an independent and vibrant octogenarian. Her life experience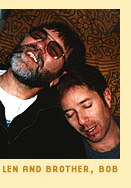 and wisdom as a career nurse is fascinating. Bob is an amazing and gentle big brother to Len and I glean his nurturing as much as I can without intruding on Len. Bob's wife, Kathy and I are true "in-laws" giggling and comparing notes when we have a private moment to gain insight into our related spouses' idiosyncrasies. What a cherished blessing, not only to have a great Beloved, but a great family of in-laws too!
In 1997, we were lucky enough to purchase a 110 year old Victorian in San Francisco, mainly because Leonard had some previous real-estate investments. Am I a lucky guy or what? We were able to land the house right before the housing market got really insane. The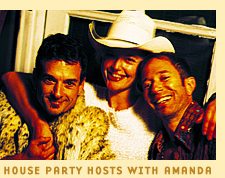 previous owner, Gala lived in the house for 40 years and died at 96. She was an opera singer and both Len and I felt the warm feeling of music just as soon as we entered the house. We have kept the music alive and reverberating in the walls and Leo, again, proved his love and support for my music by purchasing an antique, baby grand piano that sits in the living room's bay window. We know Gala would be pleased. The house has been our project over the recent years. "Oh! The joys of home ownership!" Sometimes it demands too much attention. But still, we often stop and recognize in the comfort of this special place and in each other's eyes how blessed we are. With a garden, rental unit, and great neighbors, we've shared the blessings and had some mighty memorable parties. We'll be having many more too.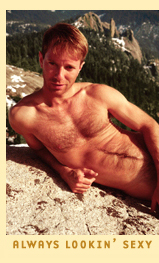 So far, I've wrote about our history together. Now I'm going to pay homage to the man of my dreams (pardon me if I wax cliché, I am in love and so many clichés are valid when in that state of mind). To begin with, Len, physically and visually yanks my crank! My engine gets going just by seeing Len walk through the house with his shirt off. He's got tight little abs, a beautifully shaped chest, with a nice spread of hair across it that I just love to get my teeth caught in. He's got well-proportioned shoulders, and a slim little waist. If he doesn't shave for a day and dawns glasses (see below) he looks so handsome. I better stop before I get into details that are too revealing for Leo's comfort zone, besides, just look at these photos!

Interpersonally, Leo has met me toe-to-toe in communicating and negotiating our relationship. If you know me, you know that's a formidable challenge. When we first met, and I was dating "round-robin," I was specifically looking for someone who had mutual values about individuality, companionship and a kind of love that does not confine an abundant life experience. Leonard is that person. Our relationship lasts because we have custom designed it for both of us. Sometimes that means giving the other a kick in the pants. Mostly, our relationship provides the space for, say, one of us to be responsible for his own "stuff" while the other is a nurturing, accepting support. That's not always easy for someone like me who wants to "fix" everything within a goal-oriented, time-based, itemized game plan. Leo has patiently taught me the art of flexibility. When I have specific needs that he's not accustomed to meeting, over time, he has grown and changed to be there for me, and vis-versa. We have learned to listen to each other in a way that is ideal for the one who is speaking.

Len is a loyal friend to many people. He might believe himself to be shy, but time and again, at our own dinner parties and in new social settings, he is confident, approachable, engaging and articulate. And did I mention funny? I don't know how many times he's had me and our friends on the floor, laughing hysterically because of his sharp and creative wit. He can be generous to a fault. He's always bringing home my favorite candy bar (or beer) to let me know he's thinking of me. I already mentioned the baby grand for my birthday. The spinning necklace that brought you to this shrine was a piece of coral he found on the beach and gave it to me to ware. Even though Len has no religious background, he has often taken the lead in being accepting, tolerant and far more Christ-like than I. If you couldn't tell after reading all this, I feel that I am one of the most blessed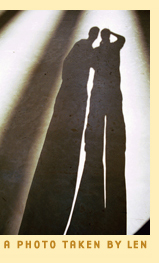 persons in the world to get so close to Leonard. He is my friend, companion, confidant, sex toy, teacher, follower, soul-mate, inspiration and Beloved.
I've referred to Leo as my Beloved. Labels like boyfriend, spouse, lover, longtime companion, and partner just don't express the depth, intimacy and respect that I feel for Len (how about, "little woman"). Beloved also has a mystical history too. Many spiritual practices and beliefs draw strong parallels between romantic passion and the divine. That's what I feel for Len. And isn't it just like me to write a song about it. The song, Beloved One is the second track on my CD, Time on a Chain (and often thought of as the best track on the whole CD). It was written specifically for Leo. So to close, I have printed the words here in honor of my most Beloved One.
All my love is yours, Len, always — Jallen
Beloved One © 2/4/94 by Jallen Rix for Leonard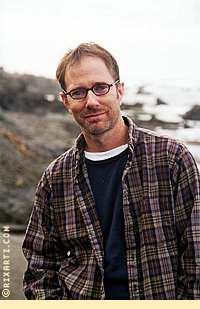 We move through life self-propelled, like made of emotional magnets.
Some drawing close, some repel. Few I have loved, most I haven't.
One has stayed with me I can not ignore.
Now with time passing I see that
Your countenance I adore, Your shape I revere like a fine gem.
Sure handsome boys pass my door, but you are the one that outshines them.
Not just a boyfriend. No fling for a day.
All others ware thin, but you are my
Sacred one.
You are my beloved one

Our loving in the dark is a well crafted art.
Our loving in the day is like children at play.
Our loving when it's public is a scandal to the commonplace.
How harsh is the light of truth when it stairs them in the face.
I sing love songs to the crowd, but you know the one my heart sings to.
Your kiss can heal any frown, but mine are the lips that can free you.
Continue your growing, and journeys you take.
I can rest knowing, you are my
Sacred one, You are my beloved one
You are my special one, You are my precious one,
You are my sacred one, You are my beloved one
All content is © by RixArtz unless otherwise noted. Please obtain written permission before duplicating.