Around 1992, I dated a fine gentleman by the name of Doug Cyr who lived in Miami, Florida. On several occasions I would say some phrase, or mention a past experience - it's hard to remember how it would come up - perhaps I simply was sharing my dreams of recording music, and Doug would say, "Oh! You have to meet my friend, Michael Rodriguez." A couple of years prior, Doug attended a school for the recording arts along with another student, "the recording engineer extrodinaire," Michael Rodriguez.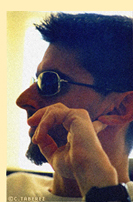 In 1994. Doug and I became good friend at the same time he moved to San Francisco to further his education. Doug had mentioned my name to Michael, so he knew of me, and I had heard much about him, but we had not met. Oddly enough, Michael also moved to San Francisco to work privately for a local artist. Do you sense the stars aligning?
I was a part-time masseur making sure the bills got paid and still allowing time for music. One day a guy called to make an appointment, explaining that he was straight, but that his gay cousin had recommended getting a massage from a gay masseur because... um, I guess he thought they give better massages. Go figure?!
Some clients want nothing but silence during a massage, while others talk to their masseur like they would to a therapist. I try to match their mood while relaxing their muscles. When this caller arrived, and as I gave him a massage, we chatted some. Since he was straight, I was overly cautious not to give off any impression or movement that might feel as if I was going to turn the massage
into sex. About half way through, the subject of his occupation came up and that he worked as a private engineer here in San Francisco. Almost unconsciencely I began to finish his sentences... My hands froze. My mouth dropped and about all I could say was, "You're Michael! D-D-Doug's friend!" At that time Michael realized who I was and we were amazed to have met so pleasantly and unexpectedly. The rest of the massage was wonderful, working out his stress, talking about our kewl connection - Doug, and becoming instant friends. I gave him a kiss on the cheek when I finished.
We discovered that we have a lot in common. We're about the same age. We both grew up in conservative religious environments and well versed in the Christian Contemporary Music scene. But, probably most of all, we share a fulfilling passion for making music. Within the first two years of meeting, Michael enabled me to create my first CD, The Sacred and the Queer. He negotiated a sweet deal allowing us access to his Boss' recording studio when it was not being used. Not only that, but Michael co-produced and engineered the recording and never asked for a penny in return. His thorough experience working with big names in the Industry (oh! I won't name drop here) and his expertise as an engineer raised my level of skill, especially as a vocalist, to new heights.
Since then, I've had the honor of going back into the studio with Michael to co-produce my second CD, Time on a Chain. Getting more comfortable with the studio process allowed me to give Michael more control of the arrangements and we collaborated more. His audible vision and insight has noticeably deepened my songs and has taken them to places my creativity never imagined.
When it comes to music, I can implicitly trust Michael will always do what's best for a song, like keeping the intentions of a son or daughter a priority, rather than imposing the parent's priorities. He has accompanied me when I perform with a band. He has hauled sound equipment and engineered live concerts more times than I can remember. And this level of commitment he devotes to any project. When eighth note records was formed, he engineered Garrin Benfield's debut CD, Living a Dream. Michael often plays in Garrin's band, too, and has recorded a second CD with Garrin, Nowhere is Brighter.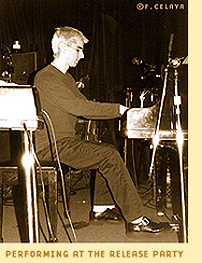 This Grammy-nominated engineer helps others sound so good that people aren't aware that he is a skillful, artful, and sensitive pianist and composer. At the eighth note records premiere party, not only did they simultaneously release two CDs (Living a Dream, and Time on a Chain) but three CDs. The third being Michael's, Invocation - a lovely recording of his piano compositions.
The many hours in the studio we have spent toiling over a mixing board has drawn us very close. There are days after a recording session that my Beloved, Leo joins us and it's oddly noticeable that, at the moment, Michael and I are more in sync than Leo and I. Over time, Michael and I have opened our hearts and worlds to each other. During the first recording we would eagerly share our escapades, say, from the night before - his in the straight world and mine in the gay world. I was so proud to tell people what a kewl straight friend I had in Michael... but I couldn't say that for long.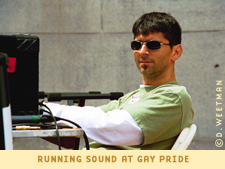 One morning Michael took Leo and I to breakfast and opened up to us like never before. Little did I know that being authentic about my sexuality would give him the strength to explore desires he had tried to ignore and hide all his life. That morning he told us he was dating a man! Michael was scared that we would be angry since he had not told us sooner. All I felt was love for him and pride that he had the courage to tell us. OK, I was a little pissed that I couldn't call him my kewl straight friend anymore, but I got over it.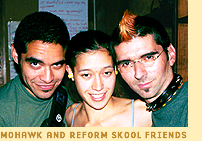 With this greater degree of honesty with his relationships, friends and family, I have watched Michael blossom in so many ways. His energetic personality has always been attractive - it is uniquely "Michael." Since coming out, he has crafted that personality into a versatile presence that is a tangible gift to everyone around him. I have rarely encountered a person who has such a stabilizing effect when walking in a room. If a group of us are getting too stuck in worry he can change our mood to optimism, if not to joy. He is suited perfectly as a recording engineer, keeping hold of musical priorities, uncompromising his skills - often silently - all the while he maneuvers respectfully around an artist's ego. The year he spent in New York I told Michael to market himself like a Pet Rock. Every house in America could have a little Michael on their mantle. He would make a fortune!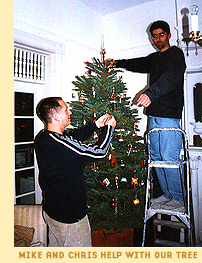 Michael came out closet and into a serious relationship that lasted several years. Long hours were spent not only dealing with his sexuality, but with the complexities of a primary relationship, too. At times, managing all of these changes forced our friendship to the "back burner." But even then, we knew our connection was unbreakable and gradually, time together has consistently emerged. Except for Leonard, Michael is the closest member of my family of choice. As our two worlds have overlapped, I have grown close to several of Michael's loved ones and vis versa. Michael's friend, and now mine, Chris Tabarez shares the same passion for music as Michael and I. Out of our triad came the beginnings of eighth note records. Our close set of friends - our family of choice - have spent holidays and vacations together. Chris and I turned Michael on to Burning Man. I brought Chris to his first faerie gathering. Chris' family, who lives in the Bay Area, has annually invited all of us to their Christmas day dinner. There's only a handful of people that have an "all access pass" to our house - at any time and for any length of time. Chris and Michael are two of them.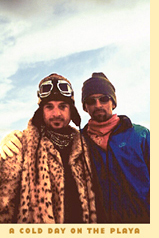 Most of Michael's immediate family lives in Texas and the East Coast. They have dealt with Michael's sexuality better than, yet similarly to my family. I mentioned that Michael and I both had a strong religious upbringing. The down side to this is dealing with the repercussions of past religious addiction and abuse. The up side is that we naturally understand each other. With most people, communication can be complicated - hearing the tone of the voice, body language, cultural differences, hearing what is actually spoken and perceiving what is intimated. With Michael, like with my best friend, Jay, communication is easy, clear and effective, right down to the nuances. There have been times that friends think I am raking Michael over the coals. Yet Michael can hear that my anger is not directed at him and he remains unscathed and present with me. There are times that people believe everything is fine with Michael by what he says. Yet I can hear how he is really feeling and just our eye contact can give comfort. My point is that we've never had to try. Somehow our similar backgrounds provide us extra insight to each other that is effortless and "spot on." It has been there from the moment we met.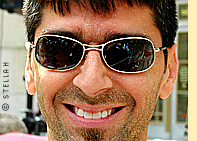 From a very young age, I longed for a best friend. It wasn't until I graduated from college before I really found someone who really fit the bill, my best friend, Jay Williams. He also has a shrine on this site. My connection with Jay was enough for me. I couldn't have a better friend. I could die happy, knowing I had experienced that kind of connection. But then, over the past nine years, Michael entered my life and it feels like I've won the lottery twice. It wasn't until 2001, when Jay came to visit, that they met for the first time. I was anxious about whether they would get along. But when they got in the same room together, along with Leo, I experienced something far different. For the first time, the three most important people in my life - all their love, support, honesty, and personality - were at arm's reach. I kept giggling from silly thoughts like, I could take my clothes off right here and I wouldn't care. These three guys wouldn't care. It didn't matter whether they got along or not. I've never been higher and more intoxicated on love than at that moment. Leonard is my Beloved. Jay will always be my best friend and Michael is my closest friend. I am the luckiest guy in the world!
The tattoo on Michael's wrist is a symbol for balance and I was born a Libra. I don't know the words to describe how our connection profoundly effects every aspect of my life. There are ways that we balance out each other that I'm just beginning to perceive. He is closer than a brother and at times, his connection is clearer than a mirror when it comes to understanding myelf.
These words never seem enough but I must write them again:
Thank you, Michael
Our lives are open. If not now, when? - Jallen